Golden Era Game of the Week
See introduction

here
The Game:
Barrier
romname:
barrier
Screenshot: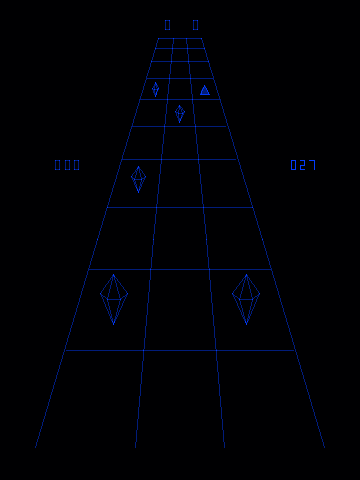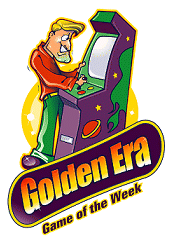 (click to see current MARP scores)
Reward:
$25 (usd)
Deadline for submission to MARP:
December 1, 2006 2359 hours GMT
Further Bounty:
none
This week's game comes from one of my favorite early video arcade game producers, Cinematronics. They were pioneers in the vector graphics field. This game was programmed as an exercise for one of their junior programmers to learn from, and is a blatant copy of the gameplay from a handheld LED-display Football (that's American football for you foreigners) game from Mattel which was enormously popular in 1976 and ranks right up there with Furbies, Tickle-Me-Elmo, and Cabbage Patch Kids (remember the
riots of 1983
?) as one of the hottest-ticket Christmas items of all time. I can imagine it's hard for younger people at this point to fathom how cool this was when it was new.
The vector copycat, once done, was sold to a competitor, much to the amusement of the Cinematronics crew. The laugh was on them when they later acquired the company they had sold it to, and were stuck with it themselves!
From a Cinematronics site:
The game Barrier, manufactured just after the Vectorbeam buyout by Cinematronics, is also an interesting story. Barrier was a game designed at Cinematronics as an excercise for newly-hired programmer Rob Patton, and was initially named Blitz. Jim Pierce, co-owner of Cinematronics, came up with the gameplay idea, which was curiously identical to the handheld Mattel football electronic game which was very popular at the time. As Skelly remembers, "To make Jim happy, we put it out on test. It did very poorly, to put it nicely, and we stuffed it in the closet."

Bill Cravens, President of Vectorbeam, visited Cinematronics before the buyout, looking for something his company could build and and sell quickly. "Cinematronics sold him Blitz," Skelly says. "And we all laughed our asses off."

However, the laughter died abruptly, as this happened only a matter of weeks before the buyout of Vectorbeam by Cinematronics, which nobody at Cinematronics had apparently forseen. "When Cinematronics took over Vectorbeam they found themselves stuck in Vectorbeam's position," says Skelly. "They had employees, an assembly line, and nothing to build. So--and here comes the irony--they were forced to endure the fate they had intended for their foes: they had to build Barrier."
Note Well:

I could not get the game to work in .106, and did not try to figure out why. It worked in .101, so that is what we are using.
Random prize:
One player submitting in excess of 500 points, selected randomly from those who do, will receive a retro-game themed scarf. Thanks to MJSTY for finding this gem. (And if you don't like them blame him.)
(Click for more info)
Use WolfMAME .101
On Deck game:
Frogger