K10 Round 7 (Elimination Round 4 - Semi-Finals)

Street Fighter III Third Strike: Fight For the Future (Japan 990608, NO CD) [sfiii3n]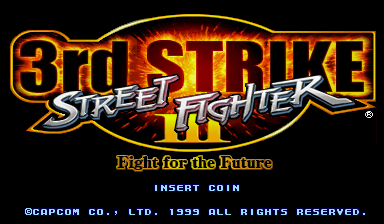 Year - 1999
Manufacturer - Capcom
Genre - Fighting
Settings: Default settings
Versions of MAME allowed: WolfMAME 0.148
Button Configuration:
Button 1 - Jab (Light Punch)
Button 2 - Strong (Medium Punch)
Button 3 - Fierce (Hard Punch)
Button 4 - Short (Light Kick)
Button 5 - Forward (Medium Kick)
Button 6 - Roundhouse (Hard Kick)
Round Duration: Wednesday May 1st, 00:00 GMT - Tuesday May 7th, 23:59 GMT
TIME REMAINING
World Record - 15,820,900 by L2A-GYO
MARP Record - 4,466,300 by BBH (4,829,700 on sfiii3nr1 romset)
HISTORY
The third and final version of the third installment of Capcom's flagship fighting game series. The SFIII series never came anywhere close to the same level of popularity as the original Street Fighter II, and was usually seen as a disappointment by people. And when 3rd Strike was released, it didn't really change any minds of people who wrote the series off. Despite this, the game still saw play in select parts of the world, namely Capcom's home country of Japan. Slowly but surely, people started coming around to the game over the years, with more people able to enjoy the game through console ports to systems like the Dreamcast, Playstation 2, and Xbox. But it wasn't until the EVO 2004 tournament, where one of the most memorable moments ever captured at a fighting game tournament lead to a true resurgence in the fighting game scene. Although it's lost some steam since then, there are still dedicated groups of players around the world that enjoy the game to this day.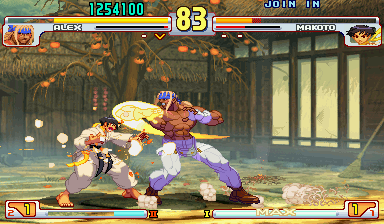 That's all well and good, but this isn't a fighting game tournament - this is a MAME tournament. We know that not everyone is well versed in the ways of fighting games, but it is a genre that saw much representation in the arcades, and we'd like to think that the players that have made it this far can handle a fighting game. As a 1-player vs. CPU game, 3rd Strike is actually quite good - there is a respectable difficulty curve to the game, the early stages are easy but it slowly gets harder. In addition to that, you get two choices on who to fight for each stage up until the end, which lets you avoid characters you might have problems with. Finally, the scoring system isn't ridiculous - although you can get some good points by winning rounds with super art attacks, there are a lot of points to be had by clearing consecutive stages without losing a round. Hell, there's a "hidden" fight after the 7th stage where one of the prerequisites is not losing a round up to that point. Either way, I don't think this round will end with people suiciding on purpose

(as to how those 10 million point scores are done - I'm not exactly sure but I think it requires getting a lot of the highest grade finishes after each stage)
Although the CD-required romsets are now playable at MARP thanks to some WolfMAME-specific additions by our very own Barry Rodewald, we'll be using the sfiii3n No-CD romset for the sake of simplicity (plus it has a slightly shorter bootup time!). Do note though that this game is NOT playable in 0.106, so you will need to use WolfMAME 0.148 for this game. If you have issues running 0.148, please let us know and we'll do our best to assist you.
We're now down to the semi-finals. Of the 4 players left, who will advance to the final game?
http://challonge.com/k10
RAX@AIVA [8] vs. nii-san [4]
*Goldtimes* [7] vs. colman paolo [3]
Good luck to everyone!