K10 Round 6 (Elimination Round 3)

Grobda (New Ver.) [grobda]
Year - 1984
Manufacturer - Namco
Genre - Arena shooter
Settings: Default settings (Rank A, 3 lives, extra lives at 10k, 50k, every 50k after).
Stage select warp is not allowed, game must be started from Stage 1.
Versions of MAME allowed: WolfMAME 0.106 or WolfMAME 0.148
Button Configuration:
Button 1 - Shoot
Button 2 - Shield
Round Duration: Tuesday April 23rd, 00:00 GMT - Monday April 29th, 23:59 GMT
TIME REMAINING
World Record - ?
MARP Record - 70,870 by Beautyplanets
HISTORY
Nobody's given us any flack yet for neglecting "Golden Age" games, but we weren't going to forget the classics! Or in this case, a rather lesser-known game from that era.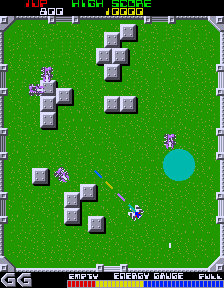 Grobda is not a traditional shooter. It could best be described as a sort of "arena" shooter like Robotron, in which you must destroy every enemy on the screen to advance to the next stage. There's no dual joystick control scheme though. You get a shield button which is quite generous, you can hold it down for a long period of time and absorb enemy shots. It's a necessity in later levels where enemy shots become more varied and accurate. This game also has an interesting scoring system, where you gain more points by "chaining" enemy deaths via explosions. It may be more worth it to try to group enemies on early levels to maximize points before things get tougher... because this game gets quite difficult later on. We hope the remaining players are up to the challenge!
With 8 players left, that means we're into the quarterfinals now.
http://challonge.com/k10
TRB_MetroidTeam [32] vs. RAX@AIVA [8]
nii-san [4] vs. el_fumador [12]
Paulo Valmir [31] vs. *Goldtimes* [7]
colman paolo [3] vs. Tekkaman@AIVA [22]
Good luck to everyone!