K10 Round 5 (Elimination Round 2)

Metamporphic Force (Japan) [metamrphj / metamrpj]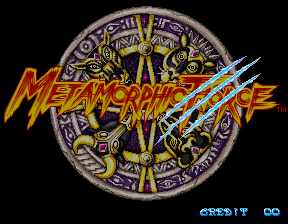 Year - 1993
Manufacturer - Konami
Genre - Beat-em-up
Settings: Default settings (Difficulty Normal, 2 lives)
Versions of MAME allowed: WolfMAME 0.106 or WolfMAME 0.148
Button Configuration:
Button 1 - Attack
Button 2 - Jump
Round Duration: Monday April 15th, 00:00 GMT - Sunday April 21st, 23:59 GMT
TIME REMAINING IN THIS ROUND
World Record - 511,800 by MSK
MARP Record - 479,000 by LastNinja2
HISTORY
In the early 90's, beat-em-ups were a hot commodity in arcades, raking in the money alongside one-on-one fighting games. A lot of this was attributed to some beat-em-ups supporting more than 2 players at once, increasing the potential profit for arcade owners. Konami was one of the kings of this genre, with Teenage Mutant Ninja Turtles and The Simpsons being two of the most memorable and popular arcade beat-em-ups.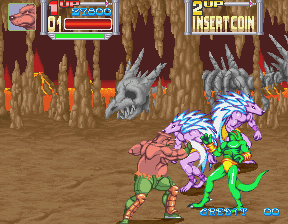 Metamorphic Force did not reach anywhere near the same level of popularity as the aforementioned games, but it's not a bad beat-em-up at all. Or at least... it's not a bad game in its original Japanese form, which is what will be played this round. Konami ruined the English releases of this game by switching from a traditional lifebar to a numerical Gauntlet-style lifebar that ticks down over time with little the player could do about it, thereby making 1-credit play impossible. They also changed a perfecly sensible scoring system into the "1 kill = 1 point" system that was unfortunately used in a number of other Konami beat-em-ups.
That's not to say the scoring system in the Japanese version is the absolute deepest thing around. Unlike the last game, the scoring in this game is very straightforward - the bonuses you get for clearing stages continually increase, so getting far (and hopefully finishing the game) is of the utmost priority. There also seems to be a healthy bonus for picking up meat with a full lifebar, so... good luck not getting hit?
Again, make sure you are playing the Japanese version of the game, which will require the parent romset + the clone. The romset was changed between 0.106 and 0.148, with the only change in the romset being the inclusion of a .nv file added (so if you find the newer romset, it should work with both versions). The game's shortname was changed too, from "metamrpj" in 0.106 to "metamrphj" in 0.148. Even if you're running the game in 0.106, recordings will be submitted to "metamrphj" on MARP.
With 16 players left, this is the second round of the elimination bracket. Winner moves on, loser gets knocked out.
http://challonge.com/k10
TRB_MetroidTeam [32] vs. INNUENDO [17]
RAX@AIVA [8] vs. Dax [24]
nii-san [4] vs. essekappa [20]
NotMan [28] vs. el_fumador [12]
Paulo Valmir [31] vs. Sawys [18]
*Goldtimes* [7] vs. Chrono256 [23]
colman paolo [3] vs. oldtimes [14]
BDFil [27] vs. Tekkaman@AIVA [22]
Good luck to everyone!