(sorry for the delay in posting this)
Game - Hook
(hook)
Duration of Round - November 4th 2006 00:00 GMT - November 10th 2006 23:59:59 GMT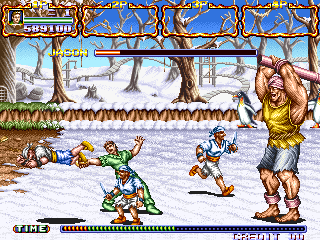 Yes, based on the movie of the same name. Bangarang, and stuff.
If people are wondering why a beat-em-up game directly after a fighting game... well, due to the unforeseen break week problems, we decided to use relatively similar genred games so winner's bracket players would not entirely miss out on a game of that type. But anyways, I think this game's better than the average movie license. Plus you can play as a kid named Thudbutt. Hee hee.
NOTE: apparently this game has an infinite number of loops... which isn't a good thing. Therefore, for K5 purposes, we will be limiting scores to the first two loops, if necessary. If you reach the 3rd loop, you can obviously still upload to MARP the final score, but we'll only be counting whatever your score is at the end of the 2nd loop. Nobody has gotten that far on MARP yet, so we'll see what happens there.
WINNER'S BRACKET MATCHUP:
destructor@HotTeam.pl
(1) vs. The Pro (10)
LOSER'S BRACKET MATCHUP:
RAX@AIVA (4) vs. pat33999 (11)
Good luck to the final four!