Golden Era Game of the Week
See introduction

here
The Game:
Frogger
romname:
frogger
Screenshot: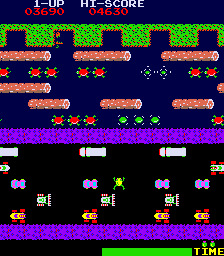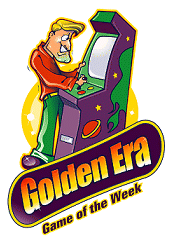 (click to see current MARP scores)
Reward:
$100 (usd)
Deadline for submission to MARP:
December 8, 2006 2359 hours GMT
Further Bounty:
$250 (usd) for exceeding 863,050 points by February 28, 2007.
This was one of the most popular games from the Golden Era, and one of the simplest. We have several world-class players who frequent MARP. Don Hayes, the current world-record holder, is a regular here, MARP Editor Pat Laffaye is a former record holder, George Strain has shown great promise recently, and German Krol a few years ago submitted a recording scoring higher than the arcade machine record, but which was disqualified. The circumstances regarding the latter will not be discussed in this thread.
Since Don Hayes has already recently raised the bar in real life, the further bounty will be for surpassing the fictional record of George Costanza, a character from the television program, Seinfeld. George's former glory on the game was relived, but not preserved, in this episode:
http://www.dailymotion.com/swf/11Lyr7EPid5LR2Hms
Wikipedia article:
http://en.wikipedia.org/wiki/Frogger
In order that our results may be more directly comparable to well-known TG sanctioned scores on the title, we will use the TG settings startings with 5 frogs and 1 extra at 20k. No time limit.
Note Well:



I am well aware that:

1) This is a game where slow-down would offer a tremendous advantage.

2) There are methods of slowing down WolfMAME which the program itself will not report.

You should be aware that:

1) I can determine if the game was not played at proper speed through methods that you are probably not aware of.

2) If I determine that someone has cheated in GEGOTW they will not simply have their entry disqualified and be invited to try again. They would be permanently banned from any GEGOTW consideration and, since I would consider it a personal attempt to steal money from me, well...as my hero Pinhead, from the Hellraiser movies once said: "Your suffering will be legendary, even in Hell."

This will also not be subject for discussion in this thread.
Random prize:
One player submitting in excess of 100,000 points, selected randomly from those who do, will receive a Tron warm-up jacket from Adidas:

(Click for more info)
Use WolfMAME .106
On Deck game:
none