So I've tentatively come up with an official GEGOTW-endorsed list of the top 100 arcade games of the golden era.
In case I've overlooked anything that should bump something off the list, I'll open it up for discussion. Remember though, with only 100 being listed, there are going to be lots of worthy contenders that just can't fit.
Let's have some fun with the process.
Try to predict which games I have tentatively chosen. For each game you name which is indeed on my list already, you get one point. If you name a game that I do not have already, but I decide is worthy of replacing something on the list, you get
10 points!
Here's the catch: for every game you name which is not on my list, and I don't think deserves to replace anything on the list,
you lose two points.
For the highest scorer in the end I have a 2006 GEGOTW t-shirt: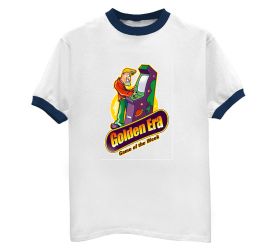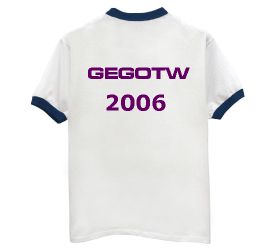 If you already have one, you are just playing for fun.
How did I choose the games? Personal preference and my own perception of their popularity with others, back in the arcade days and in more recent emulation times. It is, obviously, very subjective. I don't have access to unit sales figures for all these games, or figures on play-income.
Restrict yourself to 10 guesses or less per post, and don't post again until I have responded with respect to your accuracy.
I will update this post with the games that have been identified thus far and each participant's point total.
The list so far:
Code: Select all
1 Alpine Ski (gs)         35 Jungle Hunt (dbh)        68 Round Up (gs)
2 Amidar (bj)             36 Kangaroo (dbh)           69 Satan's Hollow (dbh)
3 Arabian (dbh)           37 Karate Champ (dbh)       70 Scramble (bj)
4 Armor Attack (dbh)      38 Kick Man (dbh)           71 Sinistar (pro)
5 Asteroids (bj)          39 Krull (dbh)              72 Slither (dbh)
6 Asteroids Deluxe (gs)   40 Looping (gs)             73 Snake Pit (gs)
7 Battlezone (ceh)        41 Lost Tomb (dbh)          74 Solar Quest (dbh)
8 Berzerk (bj)            42 Make Trax (dbh)          75 Space Invaders (bj)
9 Black Widow (bj)        43 Marble Madness (dbh)     76 Space Fury (dbh)
10 Bubbles (gs)           44 Millipede (dbh)          77 Space Zap (dbh)
11 Burgertime (bj)        45 Missile Command (pro)    78 Spectar (dbh)
12 Centipede (pro)        46 Monaco GP (dbh)          79 Spiders (dbh)
13 Congo Bongo (gs)       47 Moon Cresta (dbh)        80 Spy Hunter (dbh)
14 Crazy Climber (bj)     48 Moon Patrol (bj)         81 Star Castle (dbh)
15 Crystal Castles (dbh)  49 Mouse Trap  (dbh)        82 Star Wars (dbh)
16 Defender (bsr)         50 Mr. Do! (bj)             83 Stargate (dbh)
17 Dig Dug (bj)           51 Ms. Pac-Man (dbh)        84 Stocker (gs)
18 Domino Man (gs)        52 Mystic Marathon (dbh)    85 Super Cobra (dbh)
19 Donkey Kong (pro)      53 New York, New York (dbh) 86 Super Pac-Man (dbh)
20 Donkey Kong Jr (dbh)   54 Nibbler (bj)             87 Targ (dbh)
21 Donkey Kong 3 (gs)     55 Omega Race (dbh)         88 Tempest (pro)
22 Elevator Action (bsr)  56 Pac-man (pro)            89 Timber (gs)
23 Frenzy (dbh)           57 Pengo (dbh)              90 Tron (pro)
24 Frogger (bj)           58 Pepper II                91 Turbo (bj)
25 Frontline (dbh)        59 Pole Position (bj)       92 Tutankham (dbh)
26 Food Fight (dbh)       60 Popeye (mm)              93 Track & Field (bj)
27 Galaga (bsr)           61 Q*Bert (dbh)             94 Vanguard (ceh)
28 Galaxian (pro)         62 Qix (ceh)                95 Venture (dbh)
29 Gorf (dbh)             63 Rally-X (dbh)            96 Wacko (dbh)
30 Gravitar (ceh)         64 Red Baron (ceh)          97 Wizard of Wor (pro)
31 Gyruss (bj)            65 Rip Off (ceh)            98 Xevious (bj)
32 Inferno (dbh)          66 Robotron (pro)           99 Zaxxon (ceh)
33 Journey (gs)           67 Root Beer Tapper (bj)    100 Zookeeper (dbh)
34 Joust (bj)


The Scores so far:
Beejay = 36
dbh = 28
The Pro = 10
mahlemiut = 0
Chad = 1
Phil Lamat = -2
Marco Marocco = -3
Zhorik = -5
sikraiken = -8