The challenge here is to discover a series of Golden Era arcade game titles from the clues given, one clue leading to the next.
For the first person to figure out every one and go all the way through to the end and post here as instructed in the final step, I have a 2006 Golden Era Game of the Week t-shirt: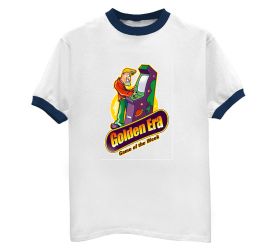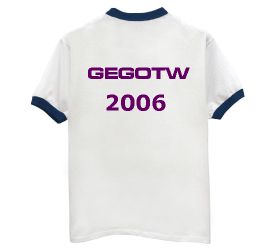 If you are the first to finish and already have one, please do not post to the thread, but PM me. I will credit you in the thread and you will receive a 2005 shirt or a sweatshirt with the 2006 logo on front instead.
The first game to start our hunt was featured prominently on an album cover of one of the biggest British rock-n-roll bands of all time.
When you have determined the name of the game, you will find your next clue and instructions on how to proceed by going to the URL:
"
http://www.gegotw.net/
gamename
.html"
where "
gamename
" is the name of the game, with no capital letters, spaces, or punctuation.
Players are encouraged to post their progress here, without giving away any game names or clues, of course. If I feel that progress is going too slowly, I may offer hints on clues that people have reported being stuck on.
Players are prohibited by honor from trying to determine the titles by any method other than the use of the clues given. (Like don't hack into my host admin control panel and go browsing through files, or write a program to try every file name permutation and check for content.)