Golden Era Game of the Week
See introduction

here
The Game:
Kangaroo
romname:
kangaroo
Screenshot: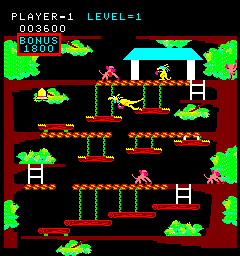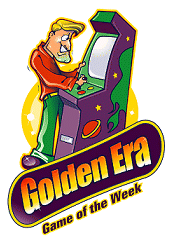 (click to see current MARP scores)
Reward:
$50 (usd) for the recording scoring the highest on MAME default settings (3 lives, no extras), $50 (usd) for the recording reaching the highest level, ties broken by earlier submission
Deadline for submission to MARP:
August 18, 2006 2359 hours GMT
Further Bounty:
$250 (usd) for exceeding 921,800 points by October 31, 2006. TG marathon settings (extra at 10k, every 30k) may be used for this.
Well, quite a bit of controversy over such a cutesy-wootsey game. There seems to be some doubt about whether the TG record score is even possible:
viewtopic.php?p=4747#4747
Whether certain methods of play are legitimate:
viewtopic.php?t=9323
And whether the game plays the same in MAME as in the arcade machine:
http://www.twingalaxies.com/forums/view ... =9275#9275
I agree with JoustGod in the second thread, that unless the game is played with infinite extra lives and it is possible to gain another with each life spent leeching, it should be allowed. Even less reason to disallow it if extra men are not used (as in MAME default).
So...for GEGOTW purposes we will play with MAME default settings and I will offer the same prize for the highest score and the highest level reached. Choose one or the other (unless you can win both with the same recording!).
For the further bounty you may use TG marathon settings, and Rule 2j makes this legal for MARP submissions also. Even if a technique is used as described above which may wind up being banned for MARP and TG competition, I still want to see it and will honor the further bounty for it. It may, after all, be how the 23 year old TG record was accomplished for all we know. The record was set by David Kirk in 1983.
Page on the game:
http://www.digitpress.com/archives/mame_kangaroo.htm
The Wikipedia entry:
http://en.wikipedia.org/wiki/Kangaroo_%28arcade_game%29
Random prize:
One player exceeding 50,000 points, selected randomly from those who do, will receive an "It's on like Donkey Kong!" t-shirt:
Use WolfMAME .106
On Deck game:
The End