Golden Era Game of the Week
See introduction

here
The Game:
Galaxian
romname:
galaxian
Screenshot: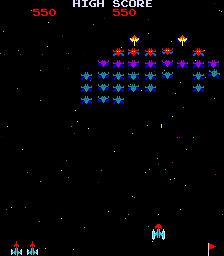 (click to see current MARP scores)
Reward:
$100 (usd)
Deadline for submission to MARP:
June 16, 2006 2359 hours GMT
Further Bounty:
$250 (usd) for exceeding 503,710 points by August 31, 2006.
Here the Space Invaders theme is souped up with diving aliens, a moving background, and color graphics. This was state-of-the-art in 1979. Still looks decent today, I think.
Page devoted to the game:
http://www.galaxian.dds.nl/index.html
Wikipedia (rapidly becoming the repository of all human knowledge) article:
http://en.wikipedia.org/wiki/Galaxian
The further bounty is inspired by 2004's breaking of the 20 year old arcade record on this title by Englishman Gary Whelan. Robert Mruczek's big write up:
http://www.twingalaxies.com/forums/viewtopic.php?t=3467
Robert is also knowledgeable on the title. His Lessons 101 and 102 on the subject:
http://www.twingalaxies.com/forums/viewtopic.php?t=1966
http://www.twingalaxies.com/forums/viewtopic.php?t=1986
Gary Whelan came to Funspot this year and beat his own record, scoring 503,710 points. Gary's page:
http://www.geocities.com/galaxip79/index.html
Random prize:
One gamer who submits a score over 50,000 points, chosen randomly from those who do, will receive a Galaxian t-shirt in the size of their choice:
Use WolfMAME .101 or .106
On Deck game:
Space Fury