Golden Era Game of the Week
See introduction here
The Game:
Robotron: 2084
romname:
robotron
Screenshot: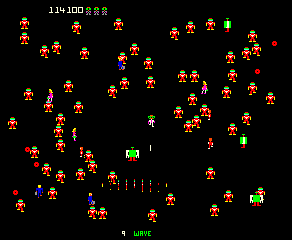 (click to see current MARP scores)
Reward:
$100 (usd)
Deadline for submission:
August 12, 2005 2359 hours GMT
Further Bounty:
$250 (usd) for scoring 1,000,000 points or more by Oct 31, 2005. If that is
not
claimed, $125 for the first submission exceeding 893,000 points.
Eugene Jarvis' sequel to Defender and Stargate.
Until recently, the MAME emulation of this title was significantly more difficult than the original arcade version, but a recent change of RAM addresses in the driver seems to have corrected the problem. Let's celebrate with some serious competition on it.
I'd like to see the cool million, but failing that I'll offer a 50% consolation prize to anyone who can best the arcade machine record of 893,000 held by Abdner Ashman.
I never thought too much of this game myself until the first time I saw a real expert play it. It's much more impressive to watch at higher levels of play.
Good page on it here:
http://www.tripoint.org/robo/robotron.html
For this week's competition, as well as the further bounty, we will be using Twin Galaxies Tournament Settings; Difficulty=5 (MAME default is 3), 5 lives to start, no extras)
Unfortunately, since Don Hayes, Matt Hall, and Tommi Tiihonen unilaterally decided to require the use of Difficulty=10 for MARP submissions on this title, GEGOTW submissions for this week will
not
be legal for MARP regulation play. You may therefore submit recordings to me on this forum via PM attachment, or email recordings to "weehawk95" at hotmail.com, or load to your own web storage and send me the URL. At the end of Sunday, Tuesday, Thursday and finally Friday, the top three submissions will be available at:
http://www.gegotw.net/robotronresults.html
Your recordings
will
be submittable to TG
if
TG adopts WolfMAME .98 for MAME submissions.
Use WolfMAME .98
"On Deck" game: Red Baron